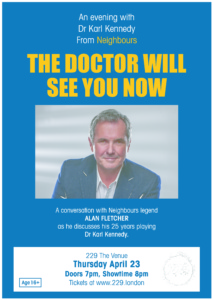 Book at this link: https://bit.ly/2ucFPb5
Alan Fletcher discusses his 25 years playing Dr Karl Kennedy in Neighbours through video, song, and chat.
BLOG POSTS
I regularly blog on a number of topics dear to my heart:
MUSIC – Introducing you to new acts and artists I admire.
TRAVEL – containing my photographs and commentary about  places I have visited
WHAT I LEARNT TODAY – Blog posts about snippets of wisdom and knowledge that come my way
GENERAL BLOGS – Neighbours all the 'other stuff'
Check out the blog section to read my musings and check out my photography.
WHY SUBSCRIBE TO ALANFLETCHER.NET?
Receive a free birthday video message for your birthday or any other event you choose*.
Receive access to free music downloads from Independent musicians every month through my Music Blog.
Receive discounts for merchandise, music and gig tickets.
Signed fan card for you or someone else (on request).
So, what are you waiting for?!  Subscribe here!
*Applicable for first year of subscription
Thanks for dropping by!