Inside Soap Award nominations honour for Neighbours.
Nominations for the Inside Soap Awards 2014 have just been announced and Neighbours has been recognised in two categories. The show has been nominated for best Daytime Soap and Jackie Woodburne, Alan Fletcher, Chris Milligan and Jenna Rosenow for best Daytime Star.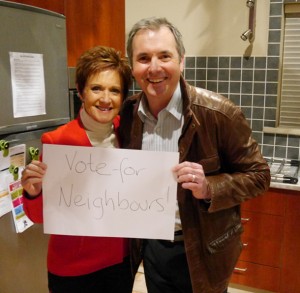 We would love you to vote for us!
Voting Link:
https://www.demographix.com/surveys/2KVG-RM5T/AEEMYXKF/
Best Daytime Star
Jackie Woodburne (Susan Kennedy)
Alan Fletcher (Karl Kennedy)
Chris Milligan (Kylie Canning)
Jenna Rosenow (Amber Turner)
and Best Daytime soap for Neighbours