Are you looking for a video shoutout from Alan Fletcher?
Here's how they work.
Subscribers to my Website get a free birthday video in the first year of subscription and 25% off on any Cameo video shoutout ordered
Subscribe at this link.
If you would like shoutouts for weddings, parties, hen's nights etc then head over to my Cameo page.
Any questions email me at http://alanfletcher.net/contact-alan/
———————————————
Alan Fletcher Tour Information
Sadly the Coronavirus pandemic has forced the cancellation of all 2020 UK performances of my show –
THE DOCTOR WILL SEE YOU NOW
Alan, live on stage,  discusses his 25 years playing Dr Karl Kennedy in Neighbours through video, song, and chat.
The tour is now rescheduled for late 2022.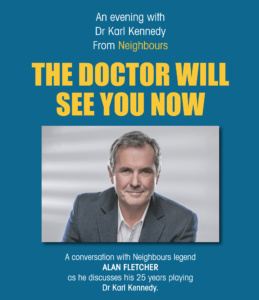 Subscribe to my website to get advance notice of dates and access to pre-sale tickets.
Subscribe here!
http://alanfletcher.net/join-the-alanfletcher-net-community/
BLOG POSTS
I regularly blog on a number of topics dear to my heart:
MUSIC – Introducing you to new acts and artists I admire.
TRAVEL – containing my photographs and commentary about  places I have visited
WHAT I LEARNT TODAY – Blog posts about snippets of wisdom and knowledge that come my way
GENERAL BLOGS – Neighbours all the 'other stuff'
Check out the blog section to read my musings and check out my photography.
WHY SUBSCRIBE TO ALANFLETCHER.NET?
Receive 25% discount on  video messages booked through CAMEO
Receive access to pre-sale tickets for Alan Fletcher and Waiting Room performances including 2022 UK Tour of the Doctor Will See You Now
Receive discounts for merchandise.
Receive signed fan cards – on request.
Receive regular newsletters
Thanks for dropping by!